When it comes to effective and reliable live streaming production services, no one beats the professionals at Spring Forest Studio. Located in Singapore, our highly skilled team of video producers, directors, editors, and technical experts specialise in creating professional solutions for all kinds of broadcast needs. Whether you're looking for a virtual studio set or an online video platform, we have everything you need to get your project up and running quickly with minimal expense.
Our experience is second-to-none when it comes to offering top-quality live streaming experiences that are both intuitive and cost-effective. Our goal is to make sure that every client gets the best possible service at an affordable price. We offer customised packages tailored specifically to each customer's needs, so you can be certain that your project will receive the unique attention it deserves from start to finish. With years of expertise getting clients off the ground with their desired live stream, we know how important it is to get things right from the beginning so nothing goes wrong during broadcast.
At Spring Forest Studio, we use only modern equipment—from cameras, lens cables, and microphones—along with experienced personnel who understand what works when delivering quality livestream. We take pride in producing high-quality work with the latest technology, and we have a proven track record of success from our previous clients. Our team has everything needed to make your project run smoothly, such as:
• Professional video producers
• Experienced directors and editors
• Complex technical engineers
• The latest broadcast-grade equipment
Plus, when you book through us, you'll be able to work with trained professionals who are ready to help you understand every step of the process. We're here to guide you in making smart decisions based on your budget and streamline production, eliminating any unnecessary roadblocks along the way. Whether it's creating captivating visuals or providing reliable hosting services that keep costs down without sacrificing quality, trust that Spring Forest Studio will exceed expectations.
How a Virtual Studio Set is the Perfect Alternative for Events without a Physical Venue
In recent years, as teleconferencing has become increasingly popular due to various lockdowns caused by the COVID-19 pandemic, many companies have had little choice but to turn to remote solutions for their events. But even though these events can be held virtually, they haven't always been professional-looking or easily accessible. That's why virtual studio sets are quickly becoming an attractive alternative for those wanting to create more visually appealing productions.
Virtual studio sets are a perfect option for those looking to project a more professional and polished look without the need for an actual venue. With Spring Forest Studio, you can select from our variety of virtual backgrounds, camera angles, customised graphics, and branding elements—all seamlessly integrated into your video production setup. This way, you can give viewers the feeling they're in a physical location as opposed to watching from their living room or office chair.
Not only are our virtual backdrops easy to customise with just a few clicks of your mouse, but we also make sure there's no delay in presentation so events run smoothly without interruption. Plus, since it's designed digitally from scratch, we eliminate any potential technical difficulties before they even arise, making sure everything goes off without a hitch time after time.
Understanding Different Types of Live Streaming: Which Is Right For You?
When it comes to selecting the right type of live streaming service for your event or project, there are several options available depending on what kind of broadcast you require:
• Video-On-Demand (VOD): Stream prerecorded videos directly on websites or social media platforms such as YouTube and Facebook.
• Pay-Per-View Events: Stream live events and charge viewers a specific fee.
• Live Streaming: Broadcast real-time video content to viewers across the world directly on websites or social media platforms.
At Spring Forest Studio, we provide all these services plus more. We understand that no two projects are exactly alike, so we work hard to make sure every customer's experience is unique and tailored specifically to their individual needs. When you book through us, our team will collaborate with you from start to finish, helping walk you through the process step by step in order to ensure maximum success.
Leveraging Advanced Technology with 3D Virtual Studio Sets from Spring Forest Studio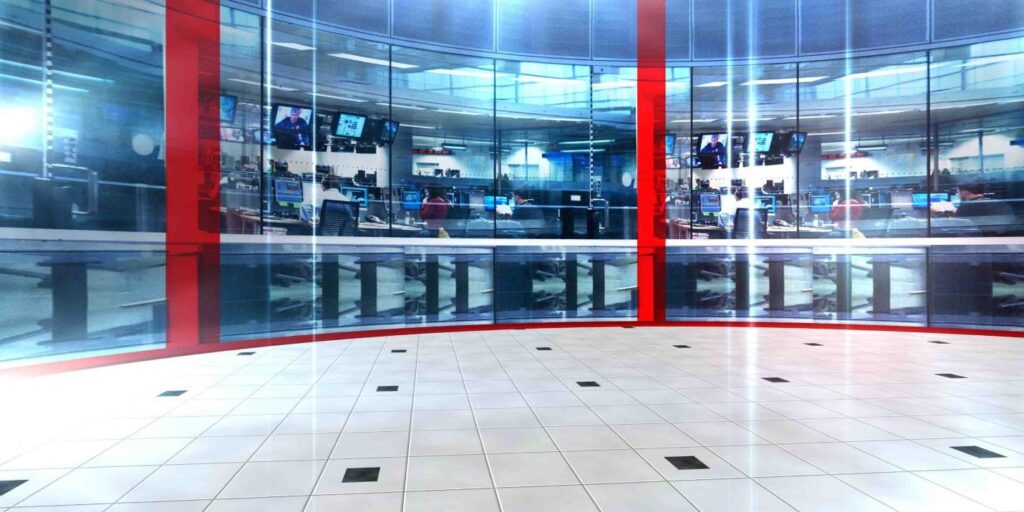 Are you ready to take your livestreaming productions up a notch? At Spring Forest Studio, we utilise 3D technology in our virtual studio sets. Our cutting-edge approach allows us to create detailed animations and special effects that are unrivalled by industry standards. This move towards advanced digital production techniques gives customers unparalleled control over how they want their project to look, as well as an immersive viewing experience for remote audiences. Additionally, this innovative system helps streamline workflow since it takes into account lighting changes along with objects depth of field, ensuring everything comes together perfectly in post-production each time.  
A Look at What's New in Live Streaming and Digital Video Production
As digital video production continues to evolve, it's possible for many unique opportunities to open up. At Spring Forest Studio, we stay ahead of the curve by constantly innovating our equipment and techniques. We use the latest software, hardware, and technologies that allow us to create stunning visuals with minimal effort—all while keeping costs down so customers can control their budget effectively. Additionally, our experienced team offers professional consulting services to help you determine what type of setup is right for your project, including audio/visual enhancement options like virtual reality (VR) or augmented reality (AR) systems.
Utilising Your Live Stream To Create Incredible, Customised Experiences
At Spring Forest Studio, we know how important it is to not only look good but also sound great during a broadcast. That's why each one of our packages includes access to high-quality microphones as well as expert mixing technicians who will ensure proper levels are balanced for every speaker involved in producing an amazing stream.
In addition to these services, we offer on-site assistance, so you never have to worry about technical difficulties during filming. This way, you can get back to focusing on what really matters: creating engaging content that captivates audiences no matter where they are watching from.
The Benefits of Outsourcing Professional Video Production Services to Professionals
We understand that producing high-quality video content can be time-consuming and costly for those without the right resources or experience. That's why many companies choose to outsource their projects to professionals like Spring Forest Studio, who specialise in creating exceptional streams every time with minimal expense. Our team has decades of combined experience working in broadcasting and video production, plus we utilise the latest technologies so you always get top-quality results that exceed industry standards—while keeping costs affordable at the same time.
Optimising Your Video Productions with Quality Equipment and Accessories from Spring Forest Studio
At Spring Forest Studio, we don't just offer expertly designed virtual studio sets; we also offer all necessary equipment and accessories needed to create a truly engaging broadcast. Whether it's microphones, lights, cameras, lenses, or any other kind of technological resource, we have access to everything you need to make sure your livestream is as professional as possible without breaking the bank. You can even rent our gear out separately if desired, so you only spend money on what's absolutely necessary for each project.
Setting Yourself Up for Success with Proven Strategies and Tactics
When it comes to planning ahead before launching into production, there are some tried-and-true strategies you can use to make sure every broadcast runs flawlessly. Our experienced team at Spring Forest Studio has years of experience helping clients create successful livestream, so we know what works and what doesn't.
For starters, it's important to understand who your target audience is, which will help determine the layout and design of your production. We also recommend testing out your setup ahead of time, making sure all technical elements work properly before going live, like sound or the placement of cameras in relation to the host and presenter area. Additionally, don't forget to optimise broadcast for mobile devices so viewers with smaller screens can get just as great an experience no matter how they're watching the stream.
Maximise Return on Investment by Planning Ahead for Every Event or Project
Preparing for a project helps ensure success by customized any risks that may arise during the filming and broadcasting processes. At Spring Forest Studio, we understand the importance of planning ahead so that our customers always get the maximum return on investment without worrying about surprise fees or delays down the road. Plus, our years of expertise give us an edge when it comes to creating detailed budgets and efficiently executing shoots from start to finish; no job is too small. With proven strategies and tactics designed specifically to keep costs low while customized quality output, trust that you have a reliable partner every step of the way.
When it comes to livestreaming and digital video production, the experienced team at Spring Forest Studio is one of the best in the business. With years of experience creating top-of-the-line virtual studio sets, professional broadcasting services, and cutting-edge technology, you can trust us to create amazing productions that will dazzle audiences around the world. Plus, our customized packages are tailored to each customer's needs, so don't worry about spending more than necessary every time. Contact us today to find out how we can help make your next event or project a huge success.
FAQs:
What Services Do You Offer To Help With Live Streaming Production?
Our team at Spring Forest Studios provides complete professional live stream production services from start to finish. We have experience producing content for streaming services such as Zoom, YouTube, Twitch, and Facebook Live. Our services include live stream setup and configuration, audio engineering and mixing, video switching and editing, graphics production, and virtual studio set design and construction.
How Can A 3D Virtual Studio Set Benefit Me?
A 3D virtual studio set is a great way to take your stream to the next level. By utilising modern computer-generated imagery (CGI), you can create an entirely new environment for your event or project that looks incredibly realistic—but with none of the budget restrictions or limitations related to renting physical sets or studios. With Spring Forest Studios' custom-built 3D virtual sets, we offer our clients fully immersive experiences where they will feel like they are part of the scene instead of just watching it from afar—all at a fraction of the cost.
Are There Different Types of Streaming I Should Consider For My Events?
Yes, there are. Depending on your objectives, you should consider different types of streaming solutions available today: traditional broadcast stream, which allow viewers to watch on-demand as well as interact in real time through chat features; virtual events, which typically involve panelists speaking directly over webcams via platforms like Zoom and WebEX; hybrid events, which combine elements of both; and finally, 360° live stream, which give viewers a fully immersive experience as they move around the room. Depending on your project goals and budget, there are a variety of streaming services that can be used to bring your event or project to life.
What Advanced Technology Is Used In Creating Spring Forest Studios 3D Virtual Sets?
At Spring Forest Studios, we use top-of-the line technologies for our 3D virtual studio sets. We start with Autodesk AutoCAD software in order to design the set's layout and geometry before moving into Adobe After Effects for working with motion graphics, green screens, and composites.
What New & Exciting Trends Are Happening In The World Of Live Streaming And Digital Video Production?
Live streaming has become increasingly popular over the past few years due to its ability to provide real-time engagement with audiences from anywhere in the world—but there are a lot more possibilities for digital video production as well. Viewers now have the ability to directly interact with content creators through chat functions, text-based polls, and audio call-ins. Technologies like augmented reality (AR) and virtual reality (VR) can also be used to create immersive experiences that transport viewers into different digital environments—all while driving brand awareness and engagement with your audience.
How Can I Create Unique Experiences With My Live Stream Productions?
At Spring Forest Studio, we believe in creating unique experiences by utilising the latest technologies in live streaming production and 3D virtual studio sets combined with our creative vision, experience, attention to detail, and passion for what we do. From concept creation to setup and configuration; virtual set design; motion graphics and compositing; sound engineering; and through final delivery of your project, you will receive personalised one-on-one service every step of the way, ensuring that each event or project is an unforgettable success.
If I Choose To Outsource, How Will Professional Video Production Services From Spring Forest Studios Help Me Achieve Success?
By outsourcing professional video services to Spring Forest Studios, you'll benefit from our highly experienced team, which is dedicated to providing quality work at competitive prices without sacrificing customer satisfaction or creative integrity. We also have access to the latest audio and video technology and expertise in 3D virtual studio sets, which can help your project stand out from others. All of this allows us to save you time and money while delivering superior results.
What Type Of Equipment & Accessories Does Spring Forest Studio Use For Their Productions?
At Spring Forest Studio, we use only the highest quality streaming equipment available on the market today, including HD cameras, microphones, and LED lighting for broadcast-ready streams, as well as specialised computers for virtual studio set production. Our accessory list is extensive, so if there's ever a need for something outside of our standard kit, we are more than happy to provide it—just let us know.
Is there any advice that would help get the best results when planning for an event or project using live streaming?
Absolutely. Here at Spring Forest Studios, we recommend that clients ask themselves a few key questions when planning their event or project: What types of streaming do you want to utilise (e.g., traditional broadcast streams, 360° live stream)? What type of visuals would best represent your brand or product (3D virtual studio sets versus physical sets)? Do you want viewers to directly interact with you or content creators (chat functions, text-based polls, audio call-ins)? And how can you maximise ROI (returns on investments) using live stream? Answering these questions will help you determine the best type of streaming service to use as well as identify any potential budget restrictions.
Does Spring Forest Studio Have Any Tactics That Could Maximise Returns on Investment (ROI)?
Yes, there are a few tactics that we at Spring Forest Studios use to maximise returns on investments for our clients. We recommend taking advantage of social media platforms by scheduling event reminders and posting frequent updates leading up to your event or launch date. Additionally, utilising analytics tools such as Google Analytics or Adobe Analytics can provide insights into audience engagement and preferences, which helps inform future marketing campaigns. Finally, depending on the scope of your project, we also have experience monetizing content through paywalls and ad revenue options.