Today's digital world allows endless opportunities to gain audiences and profits by taking advantage of live streaming services. However, with such growth in popularity also comes an increase in competition and higher standards when it comes to production quality. If you want your content to stand out against the noise, then investing in professional live streaming production services is essential. And one of the most innovative ways to up-level your online broadcast experience is by leveraging 3D virtual studio sets for maximum engagement potential.
What is virtual live streaming?
Virtual live streaming has been a go-to solution for many organisations that are looking for ways to keep their business running even during these times of social distancing. By having remote presenters log into a meeting platform with cameras, viewers can watch them share content without everyone having to be physically together in one space—broadening reachability and allowing access from anywhere around the world.
Benefits of Investing in Professional Live Streaming Production Services
By partnering with a professional service provider, businesses have access to all aspects needed for creating engaging online experiences through customised stream that provide specific branding options like logos and colours, as well as various set designs, including green screens and 3D virtual studio sets. Additionally, there's more control in terms of audio-visual quality, as well as making sure only the right people speak at certain times.
Introduction to 3D Virtual Studio Sets and Their Capabilities for Enhancing Your Webcast Experience
3D virtual studio sets provide an exciting way to add a professional touch to your stream while also improving engagement with viewers. With this kind of set, you can create a lifelike environment that's tailor-made for your brand's needs—all with the help of realistic graphics and animation designed specifically for the platform you're broadcasting through. It has endless possibilities, such as adding video clips or text bubbles, enabling camera tracking features like zooming or panning around a scene, creating special lighting effects, or including digital props to make things look even more real. Best of all, this technology is easily accessible since most providers offer customizable templates featuring pre-built rooms that just need some adjustments so they look unique yet still cost-effective.
Key Factors for Building a High-Quality 3D Set Environment
When constructing a 3D set environment, there are several factors that will determine its overall success, from the theme design and layout choice to the type of tools used during the editing process. One of the most important elements to consider is having a reputable and reliable 3D virtual set provider who can deliver professional-looking designs with high-quality animation, lighting effects, or props included.
Additionally, you'll need to think about the colour scheme and general look of your scene, making sure it follows your brand guidelines for uniformity's sake. It's also essential that you take some time to research other online companies' studio sets for comparison, as this will give you an idea of what works best for both user engagement and cost effectiveness. You should also ask your provider about their capabilities so you know exactly what types of functions they offer or any extra support services that may be available.
Tips for Creating Engaging Content With A Professional-Looking Adaptive Background Design Feature
When working with 3D virtual studio sets, choosing a unique background design is key to creating engaging content that stands out from competitors—especially when broadcasting through web platforms like YouTube Live and Twitch TV, where viewers expect something visually captivating yet professional-looking at all times. To reach these goals more easily, many providers are now offering adaptive backgrounds as part of their packages, which enable users to complete customised designs quickly while still maintaining great detail quality, meaning they don't have to constantly keep up with trends.
Features to Look Out For When Choosing A 3D Set Solution Provider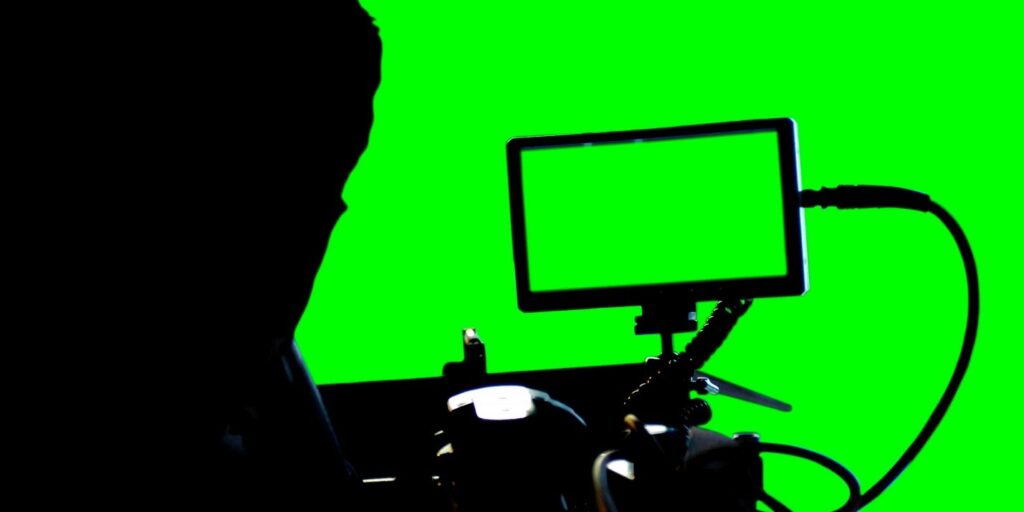 When considering 3D virtual studio sets, you want to make sure your provider is equipped to provide the latest set designs and functionalities that are currently used in today's market. Features like real-time tracking for camera movements, dynamic text or graphical overlays, customised backgrounds or props, automated audio mixing features, and added support services such as green screen setup should all be taken into consideration when selecting a live streaming production service.
How to Leverage the Power of Technology to Create Exciting Experiences in Your Online Productions
In addition to choosing the right service provider, leveraging technology can further help create more exciting online experiences through engaging content tailored specifically for your target audience's needs. Utilising 3D virtual studio sets will enable viewers to get an immersive experience that is not only visually stimulating but also makes it easier for presenters and hosts to connect with their audience without having them feel disconnected due to a lack of physical presence—helping increase engagement levels significantly. Moreover, this kind of technology can greatly reduce costs associated with travel expenses and equipment rentals by allowing teams from different areas across the world to come together virtually while still maintaining effective communication and collaboration.
Examples of Success Stories From Companies That Used Professional Live Stream Production Services
In recent years, we've seen several companies successfully incorporate 3D virtual studio sets into their productions with great results—here are some examples of successful live stream production services in action:
Social media platform Market leveraged the power of 3D graphics to add a virtual spin to their broadcasts by enabling users to customise their own studio set environment.
CNBC went further by creating an ambitious augmented reality experience using multiple camera angles, customizable backgrounds, and real-time tracking features for maximum engagement potential.
Disney also took advantage of this technology when creating interactive videos that allowed viewers to explore different parts of theme park rides from home.


These examples show how professional live streaming production services can create amazing opportunities for organisations looking for ways to uplevel their content, highlighting the limitless potential that this kind of technology offers.
Cost Considerations When Investing In A 3D Virtual Studio Setup Service
Aside from having access to stunning visuals, investing in a 3D virtual studio setup service will also benefit businesses financially due to its cost effectiveness compared with traditional studios or green screen setups, where extra equipment may be needed. Furthermore, most providers offer different packages based on user needs and budget, meaning everyone can enjoy the same high-level results without breaking the bank. And since these services are delivered remotely, there's no need to worry about travel time or extra costs associated with setting up a physical location either, saving even more money in the long run.
Get Ready For The Future With Innovative And Professional LiveStreaming Services Today
Live streaming has become increasingly popular over the years, and it's clear that this kind of content is here to stay—especially now that many businesses are turning towards digital solutions for reaching out to their target audiences. Investing in professional live streaming production services like 3D virtual studio sets will not only show viewers you're serious about your brand's quality but also help you stand out from competitors who may not be taking advantage of all that modern tech has to offer yet. So don't wait any longer; get ready for the future today by leveraging innovative solutions that can take your online broadcast experience to new heights.
FAQs:
What are the key components of a virtual live-streaming setup?
A successful live-streaming setup requires several key elements. For starters, reliable internet connectivity is essential for smooth HD video data transmission. On top of that, a high-quality camera (with microphone) must also be included in order to capture clear audio and visuals during streaming sessions. You'll also need an external mixer or sound board as well as specialised software tools in order to manage audio levels and add other effects such as reverb or compression. Lastly, if your content involves multiple participants interacting remotely through webcams or mobile devices, a switcher unit should also be included in order to coordinate all incoming media feeds into one streamlined output stream.
How can I ensure an optimal streaming experience with 3D virtual studio sets?
With today's advanced technologies available, it is possible for even novice streamers to create visually stunning 3D environments for their viewers using pre-made templates from popular providers like Adobe After Effects and Unreal Engine. To ensure an optimal streaming experience, we recommend preparing a detailed set map with all desired camera angles marked out ahead of time, as this can help streamline the production process and minimise errors during setup. Furthermore, investing in professional live-streaming production services is often a good idea if you want to make sure that every aspect of your 3D virtual studio set is running smoothly without any technical hiccups or delays.
Is it necessary to invest in professional live-streaming production services for my project?
Although it's not absolutely essential to invest in professional live-streaming services when creating 3D virtual studio sets, doing so can be extremely beneficial if you're looking for flawless, high-quality output results every single time. Professional technicians are experienced in setting up complex network systems and hardware configurations across various platforms as well as managing multiple video feeds on the same connection without any latency issues or dropped frames. Additionally, they may also provide valuable insight into how best to design your 3D set environment depending on the type of content you plan on producing—something that can be especially useful if you're new to streaming from such environments.
What type of technology should I use for creating immersive and interactive online experiences?
If you're looking to create immersive and interactive online viewing experiences, then the latest advances in virtual reality (VR) technology are definitely worth considering. You can use specialised software programmes such as Unity 3D or Unreal Engine 4 to create realistic 3D environments that users can access either with or without a VR headset. Additionally, various motion-tracking systems like Kinect have also been implemented in some of these platforms in order to capture real-time body movements as inputs for virtual avatars, allowing users to interact within the environment with naturalistic gestures and motions.
How does the selection of content affect the quality of my production output?
The content that you broadcast through your live stream has a major impact on how it will be received by viewers. If you plan on producing an educational video series, then carefully selecting appropriate topics is important if you want people to pay attention throughout its duration. On top of that, high-quality visuals can also make a big difference when it comes to viewer engagement; investing in professional services for graphics creation and editing (such as Adobe After Effects) may therefore be advisable if this is something you need help with. Finally, user interaction features should be included wherever possible so that those watching have an enjoyable experience while doing so.
Are there any tips for preparing and managing a successful live streaming event or broadcast?
Yes, absolutely. One of the most important things to remember when planning out your live stream is to give yourself plenty of time in order to get everything ready before the big day arrives. This means setting up equipment ahead of time, testing connections with various devices (e.g., laptop, tablet), and making sure that all audio and visuals are working smoothly. Additionally, it's also critical to prepare a detailed run sheet beforehand, which will guide you through the entire production process as well as outline any support resources that may be needed during set-up or broadcasting itself. Finally, make sure you keep track of comments from viewers throughout the stream session—this can help you identify areas in which improvements need to be made next time around.
What security measures should I take when investing in 3D virtual studio set services?
The protection of your data is paramount before, during, and after using 3D virtual studio services. When signing up for an external service provider, we strongly recommend that users agree on clear terms around data storage and usage regarding their uploaded content before providing personal information or payment details. Furthermore, if hosting must take place with an external provider, they should also ensure that there are suitable systems and procedures in place to prevent unauthorised access or third-party interference.
Does investing in a 3D printing solution require specialised skills or knowledge from me as well as from my service provider?
Simply put, yes, it does. While some providers may offer basic templates for users to choose from, creating a unique and immersive environment often requires specialist knowledge of set design principles and how best to use software tools like Adobe After Effects. As such, experienced technicians who have an understanding of these concepts can be extremely useful when setting up more complicated projects, so it pays off to contract professional help where needed.
Are there any additional costs associated with using advanced features such as the adaptive background design feature?
The majority of 3D virtual studio services provide basic solutions at no extra cost; however, the addition of certain post-production elements (such as colour correction) or advanced interactive features (like avatar creation) will usually incur a fee depending on the complexity required. When working with an external live streaming production company, we recommend discussing all expenses ahead of time in order to avoid any unexpected costs later down the line.
What kind of results can be expected if I opt to use high-end professional live stream production services?
With the right combination of set design, audio/visual equipment, and post-production specialist knowledge, it's possible to achieve stunning results when streaming from 3D virtual studio sets. Professional technicians are experienced in setting up complex systems that can ensure smooth HD video feeds across all devices while also adding advanced effects such as motion tracking, colour correction, and green screen background replacements. Additionally, by investing in top-of-the-line hardware and software solutions, users can guarantee an optimal viewing experience for their viewers no matter what type of content is being broadcast.